In this article, we learn about 'Practice mode' quizzing from a teacher's perspective
What comes before?
In order for a student to access 'Practice mode', they must be logged into their account.
They also must be part of a group which is enrolled to the course they want to study (see here for further information on creating groups).

What is 'Practice mode' quizzing?

✅ 'Practice mode' is a safe place for students to become confident with the concepts of a tutorial.

✅ 'Practice mode' is all about the learning process, it is not a test environment.

✅ Questions have no time limit meaning that students can learn at their own pace. Practice mode never ends: the student decides when it's time to leave practice mode or move on to test mode.

✅ As a teacher, you cannot see your students' scores in practice mode, you can only see how much time they have spent studying (see here for further detail on your teacher dashboard).

✅ Students can access their notes during practice mode and return to the tutorial at any point to help them answer any questions they are unsure of. For this reason, making notes on the tutorials is really good practice for students who want to use their notes in practice mode.

Note that 'Practice mode' will be slightly different for every student and different each time they use it.

How do students start 'Practice mode' quizzing?
Students should head to their courses page and click on the topic they wish to study. The lessons within that topic will then appear.

Next they can click on the 'Start practice' button to open up the quiz.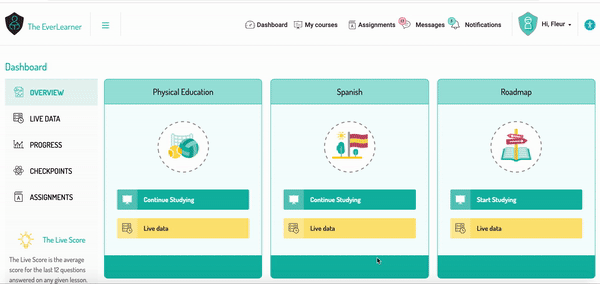 Switching to 'Test mode'

Option 1
Once a student has successfully answered 6 questions in a row they will be prompted to enter 'Test mode' - this is entirely their choice. They can choose to continue in 'Practice mode' for as long as they wish.
Option 2
They can choose to switch to 'Test mode' at any time by clicking on the 'Switch to Test mode' arrow.